Chelsea are making all the headlines so far in the summer transfer window.
And on the pitch everything is going to plan too, with their first game back after the restart cementing their place in the top four in the Premier League table.
Hakim Ziyech and Timo Werner have already signed, with plans afoot to make Kai Havertz frank Lampard's third summer signing.
The Blues take on Manchester City in their second game back on Thursday night, looking for three points to further stake their claim for a Champions League place.
Chelsea signing this 30-year-old Serie A star would be an absolute waste, especially if Kante is still in Chelsea
Why Chelsea signing Miralem Pjanic would be an absolute waste
According to the Sun, Juventus midfielder Miralem Pjanic could join Frank Lampard's Chelsea, which possibly could see N'Golo Kante leave Stamford Bridge.
Pjanic has been involved in 7 goals, having scored 3 and assisted 4 in 22 games so far this season. The Bosnian international can be a creative addition to any side he represents. Pjanic has shown he has all-round abilities and a great eye for goal. But is a move to Chelsea the right thing for the player and the club?
Should the Blues go after Miralem Pjanic and let go of Kante?
Pjanic is a great player and has won many titles at Juventus. He can be a great addition to the Chelsea midfield but the player would not have much to offer as a replacement for Kante.
Kante has played with the team and in the Premier League. He is very well adapted to it. But on the other hand, the Bosnian hasn't played in the Premier League before. The 29-year-old French international has regularly featured for the blues this season and has been a fan favourite.
Moreover, Pjanic and Kante are different players altogether. Kante is more defensive, while one can see Pjanic operate at the top of the midfield at Juventus, searching for space and attacking in the final third too.
Pjanic in and Kante out will just be Chelsea bringing in a midfielder to partner with Jorginho with no Premier League experience. And both the players are very similar in terms of operating in the top of the midfield, creating passes and searching for space.
There is no need for Chelsea to strengthen the midfield as they already have quality and depth. There were concerns on the wing with Willian leaving but the club have already addressed it with the signing of Hakim Ziyech.
While it is best for Chelsea to opt-out of buying Pjanic, there are a couple of concerns.
Kante has spent a lot of time on the sidelines nursing his injuries. It remains to be seen if the player could recapture his form and be at his best. The growing concern of his form and repeated injuries could very well mean the player might have played his best and is now past his peak.
Plenty of signs have been pointing towards the end of Kante at Stamford Bridge. Should Chelsea make the best of this situation and offload the midfield star? It is a question for another debate.
As far as Pjanic is concerned, Chelsea have a lot of players in the likes of Mason Mount, Ruben Loftus-Cheek, Mateo Kovacic, Ross Barkley, Jorginho and Lewis Barker. With these many names, Chelsea are well-stocked until they sell, and they do not require a new player. Hence, it would be a waste if they buy Pjanic.
Chelsea bank £13.5m which could go towards signing Kai Havertz this summer – Opinion
Chelsea have confirmed the sale of castaway midfielder Mario Pasalic to loan club Atalanta.
The 25-year-old has enjoyed a two-year loan spell with the Italian club who have opted to activate their option to bring him in on a permanent basis (via Evening Standard).
The Blues will bank a handsome sum of £13.5million for Pasalic, who has never made a senior appearance for the West London outfit.
According to the report, Atalanta have been impressed with the Croatian's contribution to the club and want to see him stay on a long-term deal. Pasalic also seems to be enjoying life in Italy, tallying 15 goals and 13 assists in 75 appearances for the Serie A side (via Transfermarkt).
Prior to his loan move to Atalanta, Chelsea sent Pasalic to four different clubs on temporary deals whilst they didn't have a place for him in London. The Blues signed him in 2014 from Croatian club Hadjuk Split, costing them a reported £2.25m at the time (via Transfermarkt)
Offloading a player who has never made a single senior appearance for more than £13m is a brilliant piece of business from Chelsea. The Blues can now look to pocket that money and put it towards their growing list of summer transfer targets.
One man in particular who Lampard is keen on bringing in is Kai Havertz. Roman Abramovich has even personally contacted the Bundesliga star to try and coax him into joining the club. However, Bayer Leverkusen are reportedly sticking to their £90m asking price, which means Chelsea have a lot of cash to find if they're serious about the 21-year-old.
Havertz would suit the Blues down to the ground and will have the chance to link up with Germany teammates Timo Werner and Antonio Rudiger. £13.5m is exactly groundbreaking money but it's certainly a start in raising the funds to make this move happen.
Chelsea are additionally looking at offloading N'Golo Kante, who could command a fee of about £71m, according to AS (via Daily Mail).
Willian and Pedro sign contract extensions at Chelsea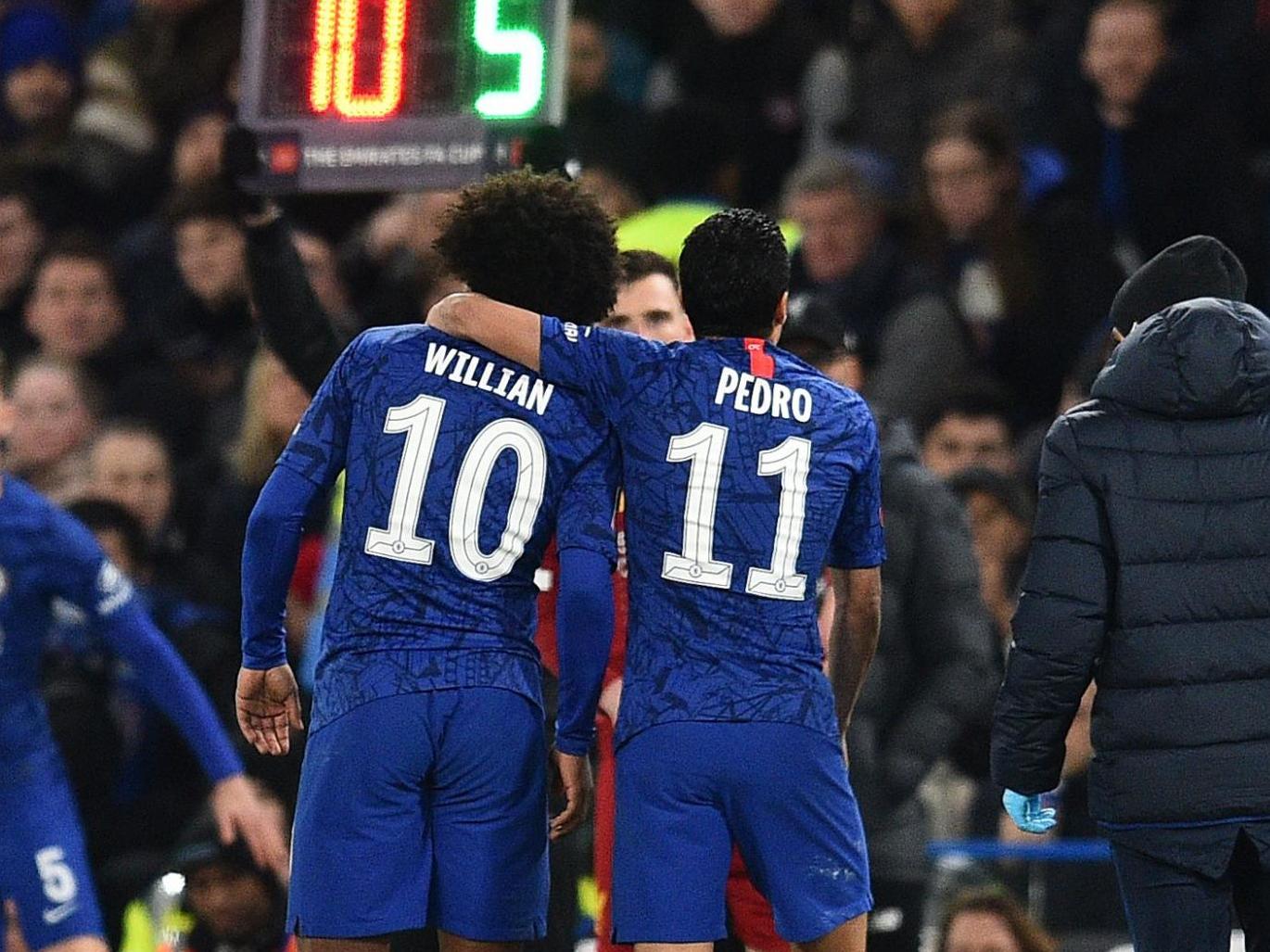 Chelsea wingers Willian and Pedro have committed their immediate futures to the club by signing contract extensions until the end of the elongated 2019/20 season.
Their original deals expired on 30 June, meaning they could have departed before the contest with West Ham on 1 July.
But now Frank Lampard has the wingers at his disposal for the remaining eight Premier League games, the FA Cup and Champions League.
An official club statement read: "As a result of the global pandemic and the subsequent delayed conclusion to the campaign, Premier League clubs unanimously agreed to be allowed to enter into short-term contract extensions with players whose deals were due to expire at the end of this month.
"Willian and Pedro were among those affected, and they and the club have now mutually agreed to extend contracts until the finale of the current season.
"It means they will be available for our remaining Premier League fixtures in 2019/20, as well as any future involvement in the FA Cup and Champions League."
Willian started Sunday's 2-1 win for the Blues at Aston Villa with Pedro an unused substitute.
The Blues are now four points behind Leicester in third, and next face Manchester City on Thursday.